A while ago I was invited by the lovely team at Shepherd.com to create a list of 5 favorite book recommendations for readers who also love my books. Here is what I chose and why. 🙂
---
The best romance, chick-lit, and women's fiction books
I love women's fiction, romantic comedies, and chick-lit because they are a fun slice of escapism, a guilty pleasure that pushes our problems on the back burner for a bit. A good women's fiction novel has everything, from romance, to drama, to self-discovery, to a happy ever after. If it's delivered with a large dose of humor, it's the recipe for success. That's what I try to do in my novels, to offer a unique experience and help readers relax, laugh, dream, hope, and most of all, escape reality when they need it. In my opinion, that's the purpose of a good book, no matter the genre.
---
The Books I Picked & Why
---
The Undomestic Goddess
By Sophie Kinsella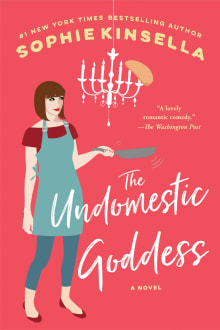 Why this book?
The story follows corporate lawyer Samantha Sweeting, who has no personal life outside her career. One day, an epic mistake turns her life upside down, and due to various mix-ups she ends up masquerading as a housekeeper to a wealthy family in a British village. There is just one problem: she can't cook, or clean, or iron, or do anything that is expected of a housekeeper.
I love this book because it has a bit of everything: romance, plenty of humor, drama, even a bit of mystery, all wrapped up in a playful yet insightful journey on life and self-discovery. I couldn't help but admire Samantha's skill to get herself out of uncomfortable situations, and find reserves of resilience she didn't know she had.
---
Octavia
By Jilly Cooper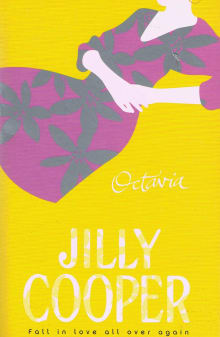 Why this book?
Octavia is a self-centered, narcissistic young heiress who thinks she deserves the best of everything. When she meets her friend's fiancé, Jeremy, she has no compunctions about trying to seduce him. But Jeremy's best friend, Gareth, has other plans. Brought up in the bad side of town and now a self-made millionaire, he decides to teach Octavia that she can't play with other people's lives without suffering the consequences.
This engaging story, full of wit and humor, shows us Octavia's transformation when she drops from riches to rags, falls in love for the first time in her life, and starts to care about other people than herself. Although the heroine might seem unlikeable at first, the author does a fantastic job in penning her journey, and by the end, most women will identify with Octavia.
---
Tribute
By Nora Roberts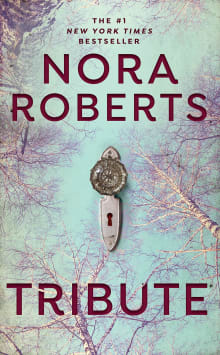 Why this book?
Cilla McGowan has always been fascinated by her grandmother, Hollywood star Janet Hardy, whose untimely death was ruled a suicide. A former actress herself, Cilla chooses a life away from the big screen and starts a business flipping houses. Her first major project is a farm owned by Janet herself. While restoring the house, Cilla begins to uncover the starlet's secrets, while falling in love with her new sexy neighbor.
This book is a tribute to Nora Roberts's unmistakable style, an odyssey of witty dialogue, and beautiful storytelling. Cilla's quest to find her own path in life is entwined with her drive to learn more about her grandmother, which leads to serious danger when she uncovers a decades-old secret. Romance, mystery, humor, danger, suspense—this book has it all!
---
Bridget Jones's Diary
By Helen Fielding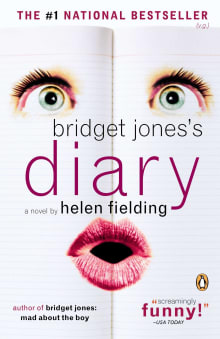 Why this book?
I think the reason why this book is so popular is because Bridget is one of the best embodiments of everyday women in literature.
Single at thirty-two, stuck at a job that seems to be leading nowhere, with no particular ambitions or skills, Bridget approaches life with humor and wit. She gets into situations that range from hilarious to absurd, and like many women, has to deal with betrayal and heartbreak. Having to choose between two men is the least of her worries, in-between her struggles to control her weight, drinking, and smoking.
Fielding has created the perfect symbol of an average single woman, with an extraordinary sense of humor and poise. This book takes some of the most depressing situations in life and turns them into an admirable anti-depressant.
---
The Devil Wears Prada
By Lauren Weisberger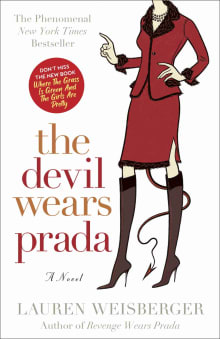 Why this book?
Have you ever had a nightmarish boss? He or she cannot possibly be as bad as Miranda Priestley. Rumor has it that Weisberger got her inspiration from real life as she was working as an editor's assistant at Vogue, and some of the situations in this novel are so far-fetched they have to be true.
Andrea Sachs is the average small-town girl who wants to make it big while keeping her integrity, but the moment she gets a job at Runway Magazine, she learns that life can be a living hell. And her new boss is the devil. Absurdly demanding, perfectionist, impossible to please, and always ten steps ahead of everyone else, Miranda Priestley becomes Andrea's worst nightmare, then her inspiration, and finally her nemesis.
Although presented as fiction and unbelievable at times, I love how this book shows us the behind-the-scene facets of success, and makes us wonder how much we are willing to sacrifice to get there—or if it's worth it.
---
View the original list and many other wonderful book recommendations from authors at Shepherd.com!
If you enjoy one or all of these books and you haven't read any of mine yet, I would love it if you'd give them a try!